Shopee store has not been able to reach customers, the interaction is not high? Want to improve the efficiency of your Shopee stores but still don't know where to start? Why not try the form of marketing running Shopee ads right away. Let's discover right away how to run the most effective Shopee ads in 2023 from AZ.
What is running shopee ads?
Running Shopee ads is a form of marketing provided by Shopee. Accordingly, Shopee provides Shopee advertising feature to sellers, allowing them to create advertising campaigns on Shopee's app and website. The main purpose is to increase the visibility of your products and booths to relevant buyers in high-traffic locations on Shopee. This helps sellers to reach more customers and increase sales for the Shop.
What are the benefits of running Shopee ads for sellers?
Running Shopee ads helps increase product or store reach. Because running Shopee ads increases the visibility of products or shops by pushing them to the high positions (even first) on the search results page so that interested buyers are more likely to see the product. more shop products. 
When a product or store appears on top, it's easier for potential customers to see them, increasing their chances of clicking on that product or store. This can help increase sales by showing ads to in-demand buyers and thereby increase conversion rates.
Types of advertising on Shopee
Search ads 
By bidding on related keywords, Shopee will allow your products to appear on the search results page when buyers use those keywords. However, search ads are only applied to certain stores like Shopee Mall, Favorite Shop and Favorite Shop+. At the same time, the stores with good reviews and high sales are selected by Shopee. With search advertising, your products will be targeted to the right customers, increasing your chances of reaching and increasing your sales on Shopee.
Discovery ads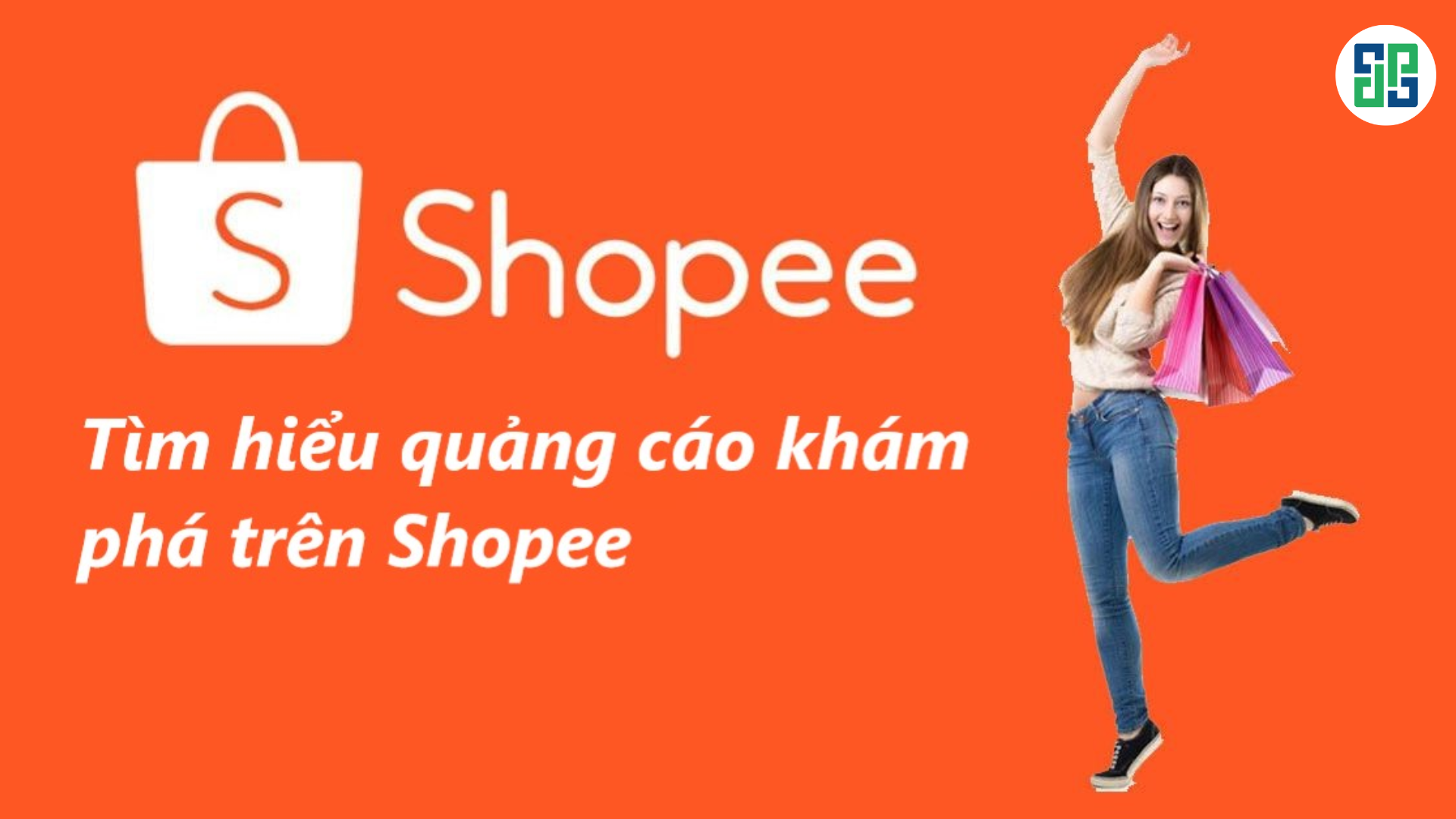 This type of Shopee discovery ad aims to effectively advertise your products by displaying ads on detail pages of similar products, or in Similar product, You may also like, or item Today's Suggestions on Shopee homepage. These locations help bring your products closer to potential customers, increase your chances of reaching and increase your sales on Shopee.
How to run discovery ads on Shopee from AZ
Step 1: Login to Seller Channel
Step 2: Choose Shopee Ads
Step 3: Click Create New Campaign
Step 4: Using Automated Ads 
Step 5: Select the product you want to promote 
In this section, you can choose up to 50 products from the available list. 
Step 6: Set a budget and application period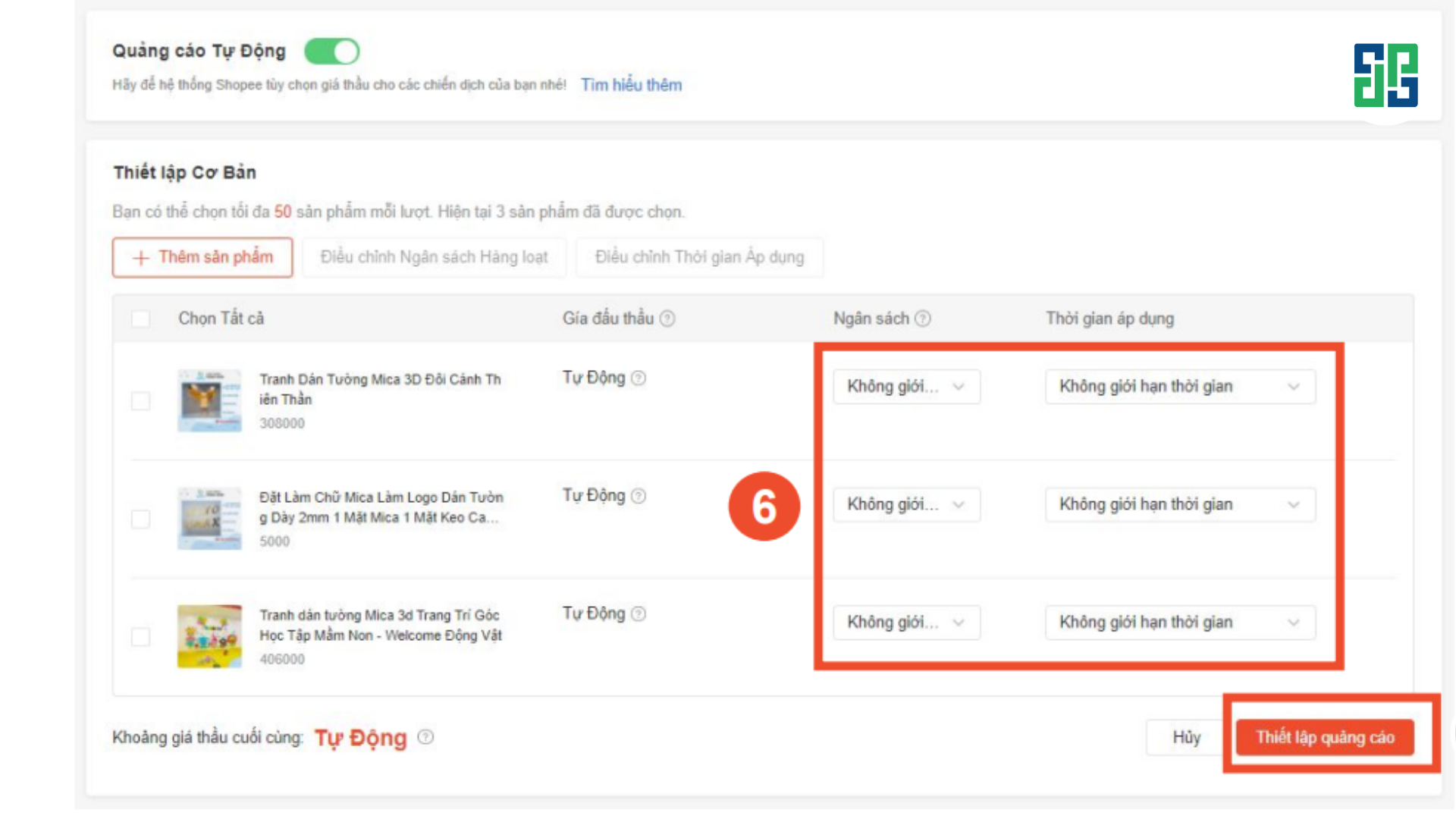 Where, budget is the maximum amount of advertising costs that you are willing to pay. And the time of application is the period of time your ad is shown.
Step 7: Select Ad Setup 
Step 8: Turn off Auto Ads
Step 9: Set Bid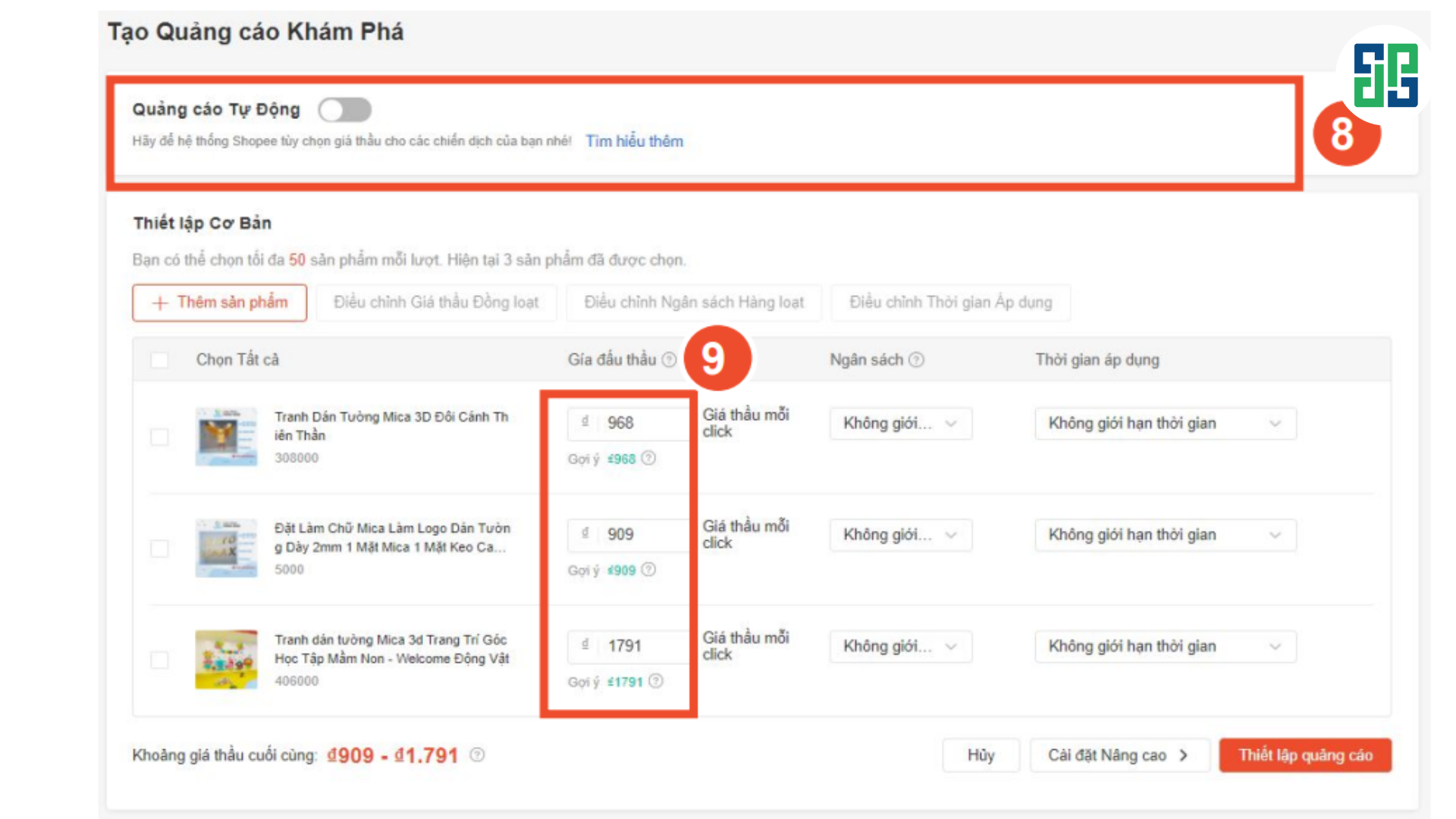 Step 10: Set a budget
Your budget is the maximum payout you're willing to pay. You can select "Unlimited" or "Set a budget limit" for your own ads. 
Step 11: Set the time to apply the ad
Step 12: Select Advanced Settings to customize the audience and display locations
Step 13: Customize the target audience for your ads based on age, gender, location, behavior, or interests
Step 14: Premium Level Settings
Step 15: Setting Status
Step 16: Click Ads Setup
Notes when running ads on Shopee
Keyword selection 
To run effective Shopee ads, choosing the right keywords is very important. Keywords will help your products be searched and identify target customers. If your budget is comfortable, you can choose popular keywords to expand your customer base, with high search volume and bids.
Choose the right advertising product 
One note that not all products are suitable for running ads. You need to consider products with high closing ability, capable of reaching the right target customers to bring optimal revenue to the store.
Prevention of click-hackers
Click theft is one of the problems affecting the effectiveness of advertising on Shopee. However, Shopee has come up with a solution to this problem by setting the time mode corresponding to the number of turns click into ads from a user's nick. 
overview 
Running Shopee ads is a very effective form of marketing. If you are interested in this type of advertising, DPS . Communication ready to accompany you. We not only provide effective Shopee advertising services, but also many other marketing services such as Shopee store design to improve business efficiency. With many years of experience in the field of Shopee, we are confident to ensure the fastest, most sustainable and extremely low cost advertising effect. 
Contact us now!