ChatGPT is a new product of OpenAI. It can create content quickly with pretty good quality. Specifically, what ChatGPT can do is complete sentences, explain knowledge, synthesize information, write copy, etc. Therefore, many content writers worry about its competitiveness. However, if cleverly used, it can also support special features, helping Content Writer reduce time to increase work efficiency. So how should Content Writer apply ChatGPT to work? Check out the suggestions below!
The benefits of using ChatGPT in content creation
ChatGPT is a great tool to help you create high-quality content. It gives you the ability to generate content automatically, while keeping your content complete and accurate.
ChatGPT offers you the following benefits:
1. Save time: ChatGPT helps you save time when creating content by automating the content creation process. You just need to make a request and leave the rest to Chat GPT.
2. Automate content: ChatGPT uses machine learning to automatically create content that matches a question or request. Not only can it recognize many languages, the content provided by Chat GPT is also complete and accurate, the sentences also have appropriate, understandable and natural grammar.
3. Update content: ChatGPT aggregates information from a huge data warehouse, so it has the ability to update quite well. The information generated is consistent with the general knowledge of the society. In particular, it also has the ability to predict to give the right answer to the questioner.
4. Error Reduction: ChatGPT also helps you to reduce errors when creating content by automatically checking content and eliminating errors in content.
With the above benefits, ChatGPT is a great tool to help you create high quality content and save time.
Identify tasks that can be assigned to ChatGPT
To turn ChatGPT into a sharp sword, you must first be a good swordsman. The more clearly you state the problem to be solved, the more accurate ChatGPT will be. First, let's review the process Content Writer needs to do to create a good product:
1. Get to know your customers: You need to understand your customers and what they want.
2. Define the product: You need to clearly understand your target product and how it satisfies the customer.
3. Develop a content plan: Once you have determined a specific content direction, you need to develop a detailed plan for the article. This plan may include steps such as: overview, goals, content, time and other requirements.
4. Create detailed content: Once you have defined your goals, you can start creating content.
5. Analyze and evaluate content: After you have created the content, you need to analyze and evaluate the content to ensure that it meets the customer's requirements.
6. Update Content: Finally, you need to update your content regularly to ensure that it is always up to date and responsive to customer requirements.
Get to know customers
In this step, you need to first visualize your target audience. However, at this stage, the customer portrait sketch is of course still very sketchy. At this time, ChatGPT can give some suggestions about what customers are interested in, as well as their worries and fears.
In the example below, I am the owner of an English center for preschool children. So I use ChatGPT to find the reasons why customers need me.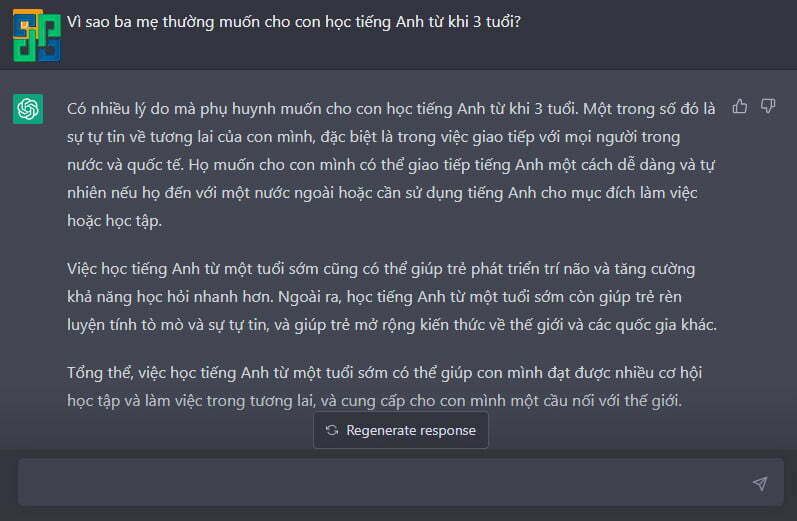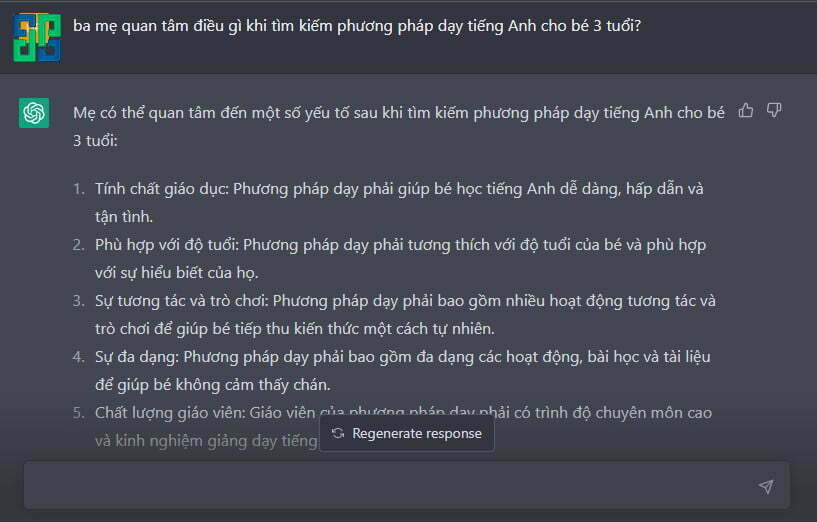 Identify products
Of course, ChatGPT can't understand your product as well as you do. The more novel and unique the product, the less information ChatGPT has. However, that does not mean that ChatGPT is completely useless at this step.
You can ask questions to find potential USPs for your business. Then compare the information received with your actual product. Thus, you initially have a guideline to plan content with a specific promotional message. Identifying a unique point makes it easier for the product to stand out and make it easier for customers to remember.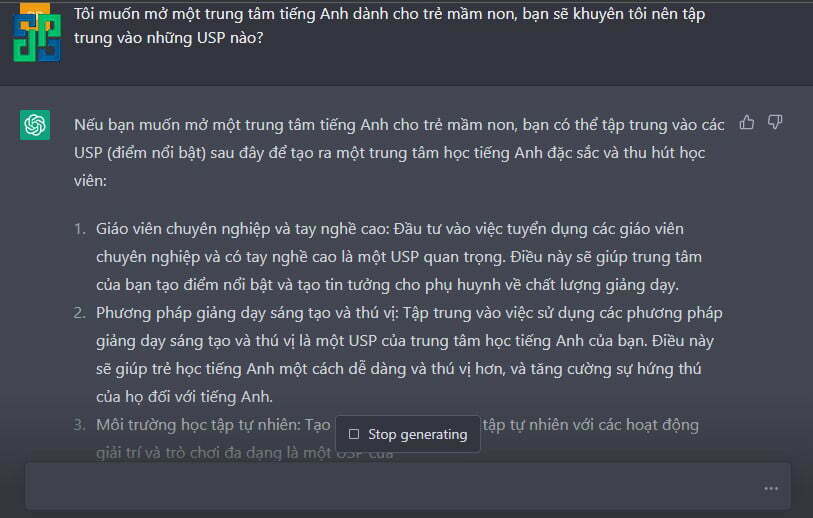 Content planning
From actual products with specific characteristics, ChatGPT can come up with ideas for articles on your behalf. Of course, you'll need to double-check for relevance, considering adding/removing topics based on your own experience and knowledge.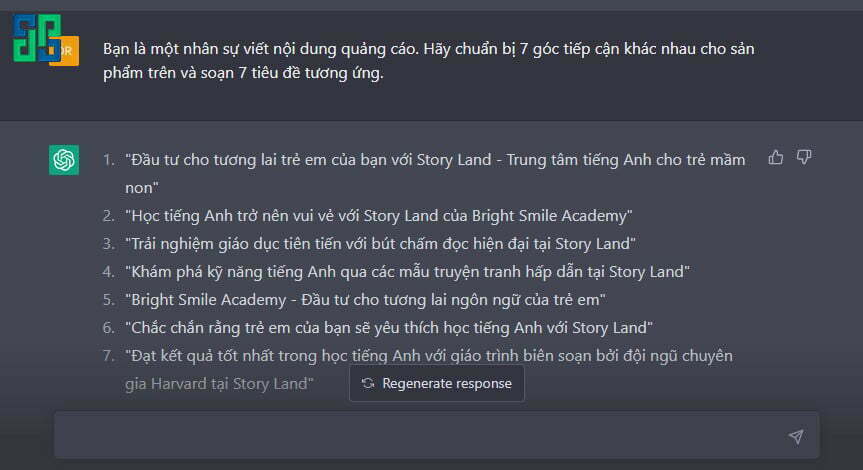 Create content
This is what most people do with ChatGPT. You simply set out a request with basic criteria such as topic, title you want to use, length, advantages... ChatGPT will create content in about 30 seconds. Wait for the content to be compiled, you just need to edit the style to be softer as you like.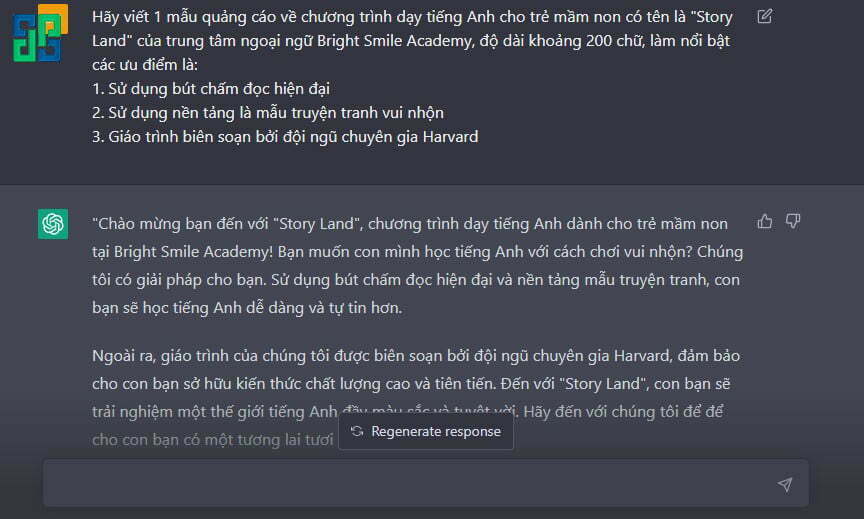 Tips to effectively use ChatGPT Content Writer to note
Content Writer should use ChatGPT properly. To do this, you need to keep the following in mind:
Always remember you are the "sword wielder". That is, you must understand the working order and consider the tasks that ChatGPT can support. Don't depend on the "sword" ChatGPT
Always give ChatGPT specific context to respond appropriately. You can refer to how I ask questions to ChatGPT
Always be the last to check. After all, ChatGPT is still a machine so the answer will not be natural. You need to re-read and edit accordingly.
Keep creative enthusiasm. This is the difference between you with the extremely fast, extremely accurate information aggregator that is and will be.
summary
Above are my experiences when using ChatGPT at work. Hope to be able to give you useful suggestions to optimize work efficiency. If you have other ideas on the topic "How Should Content Writers Apply ChatGPT to Work?", please share so everyone can learn.