As you know, anyone can create their own information on any address on google. However, did you know that there are 95% your self-generated address number is NOT verified by Google maps. This has resulted in anyone being able to edit the address or even own the business. How do you feel when your business address on google maps is moved or edited or even taken over by someone else? It's annoying, isn't it? It is because of this understanding that DPS we provide the service Verify your business with Google Maps Fast and unlimited addresses.

What is Google Maps? Using
Google Maps là dịch vụ bản đồ số đã được Google phát triển với mục đích thay thế cho các loại bản đồ giấy thông thường.
Ngày nay, chỉ với chiếc smartphone nhỏ gọn trong tay, bạn có thể tự do tìm kiếm và lựa chọn những địa điểm muốn đến. Nhanh chóng tiếp cận các dịch vụ xung quanh địa điểm đó.
To use Google Maps most accurately, you need to open GPS (global positioning system). From there you will know your current position clearly.
Through GPS positioning, it will be easier for us to determine the direction and the way.
Why businesses need Google Maps and Google My Business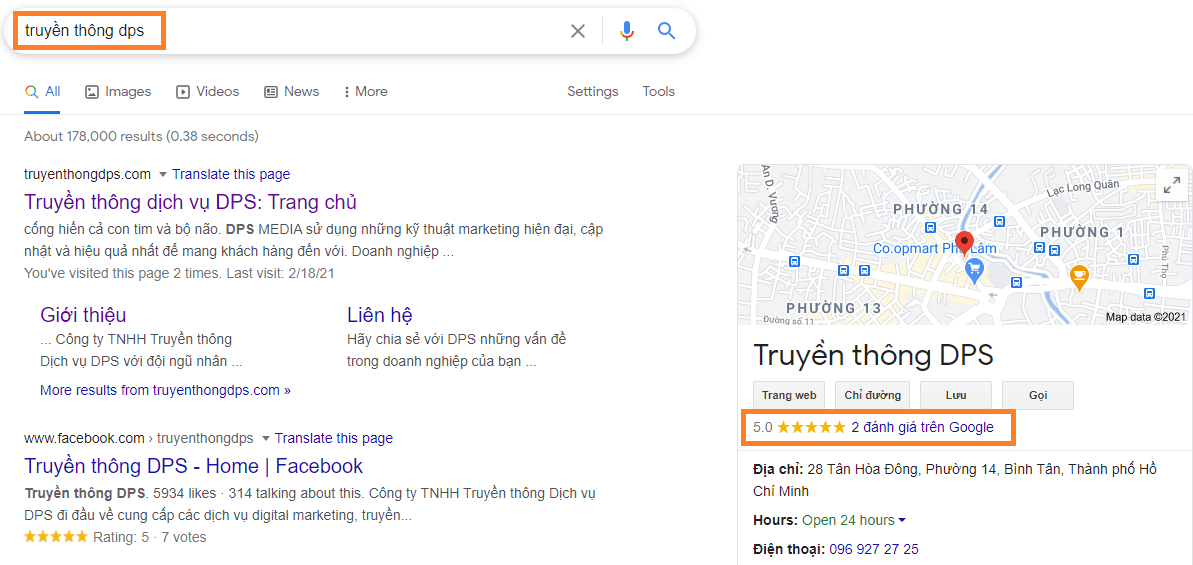 Google My Business – Google My Business allows business owners to provide the information that shows up in Google search. For example: address, phone number, opening/closing hours, e-mail and picture.
Google Maps may use information provided by businesses in combination with information from other sources, including the business' main website, Google user contributions, and third-party websites. As a result, customers - end users will have an objective overview of your business.
In addition, Google My Business allows businesses to create a website for free. Customers can review and rate businesses. And business owners can respond to that review.
Advantages of Google My Business
Here are some key advantages when you own a Google your business:
Create the advantage of approaching customers in the vicinity of the store (because Google Maps always prioritizes the nearest locations).
Bring in potential customers for free with no advertising costs.
Create reviews on Map to build brand reputation to customers.
Support SEO to pull traffic (traffic) to the webiste. Improve the ranking of the website and also the verified google maps address.
Effective marketing through articles on Google Map, no need to use Google Ads
Directions follow Google Map so customers can easily move to your business.
How industry should own position on Google Map?
For service industries such as eateries, restaurants, coffee, milk tea. If well optimized for Google Maps, good content marketing or SEO on Maps, the coverage and operating range of the business can be up to tens of kilometers.
Some industries have used Google Map business verification service at DPS such as:
Auto parts/parts supply service industry
Real estate business
Retail stores such as consumables, shoes
Local service industry
Offices, corporate headquarters
The effect achieved after businesses use the Google Map verification service at DPS is worth noting!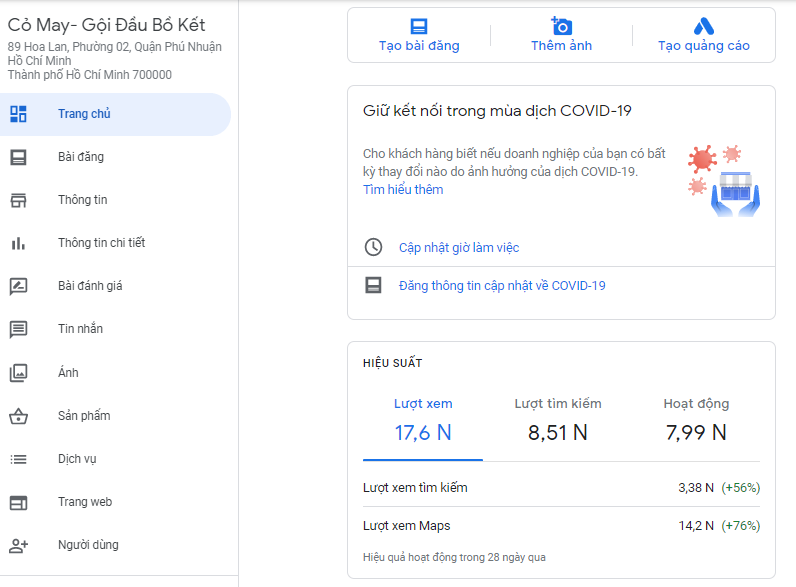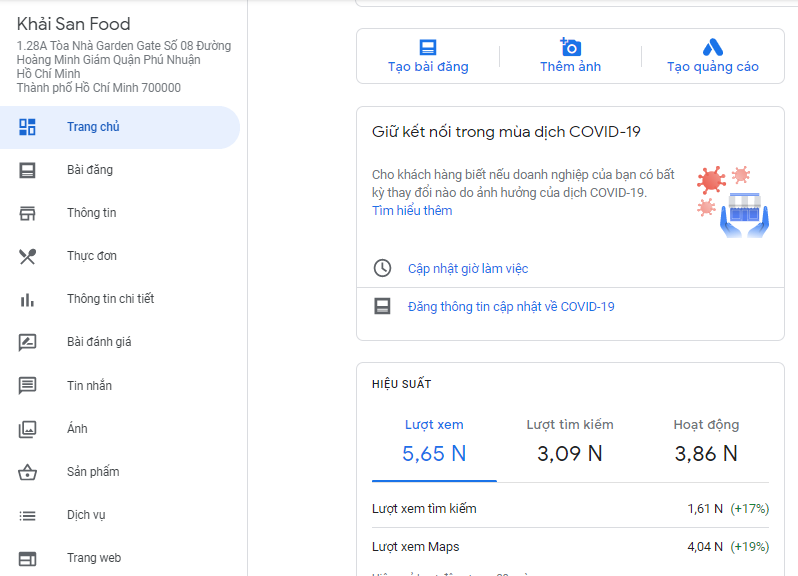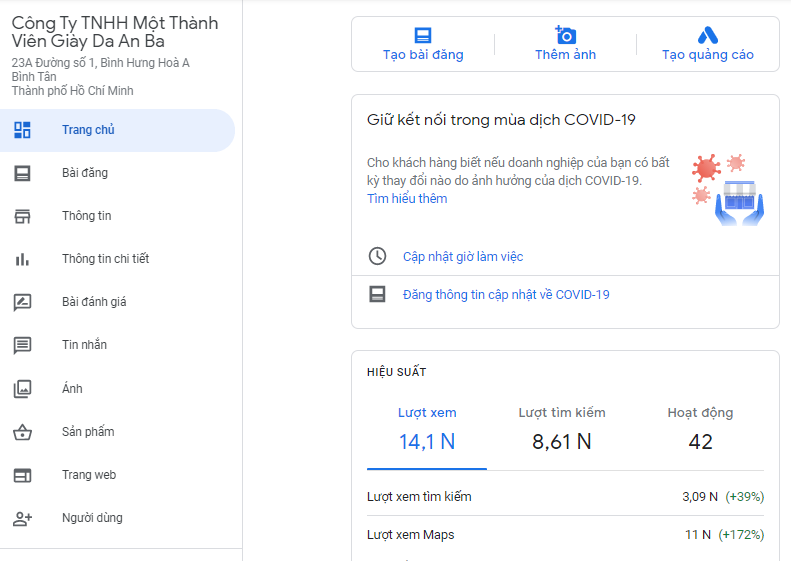 Why verify location on Google Maps?
Do you know:
Google is currently the largest search engine and accounts for 80% in Vietnam market and 63.5% in US market.
Local (local) searches led 50% of mobile searchers to stores in a day?
Business location addresses are a major piece of information local searchers seek.
Verifying your location on Google Maps (verify google map) will help ensure that your business information on Google is accurate. And only you, the business owner or manager, have the right to access and edit that information.
Businesses verified by google will increase their credibility and double trust for users.
Therefore, the need to register and verify your business location is extremely important and urgent if you do not want to lose a huge number of customers from Google.
Video about businesses that have overcome the Covid crisis thanks to Google My Business. Through this, it can be seen that Google My Business is very necessary and effective. Let's follow up with DPS!
What happens when you have Google Maps but haven't verified it?
High risk, even 100% will be pushed out by competitors.
If your business has fully displayed the information on the map. But the business has not identified the owner, the risk is very high. It is very easy to be verified by others and take over the map and change business information.
Instructions to create specific, detailed Google My Business and ensure "do it once and do it right"
Step 1: Access the link: https://www.google.com/business/ and click "Sign in" with your Google account.
Step 2: Enter your business name in the search box. Then click create business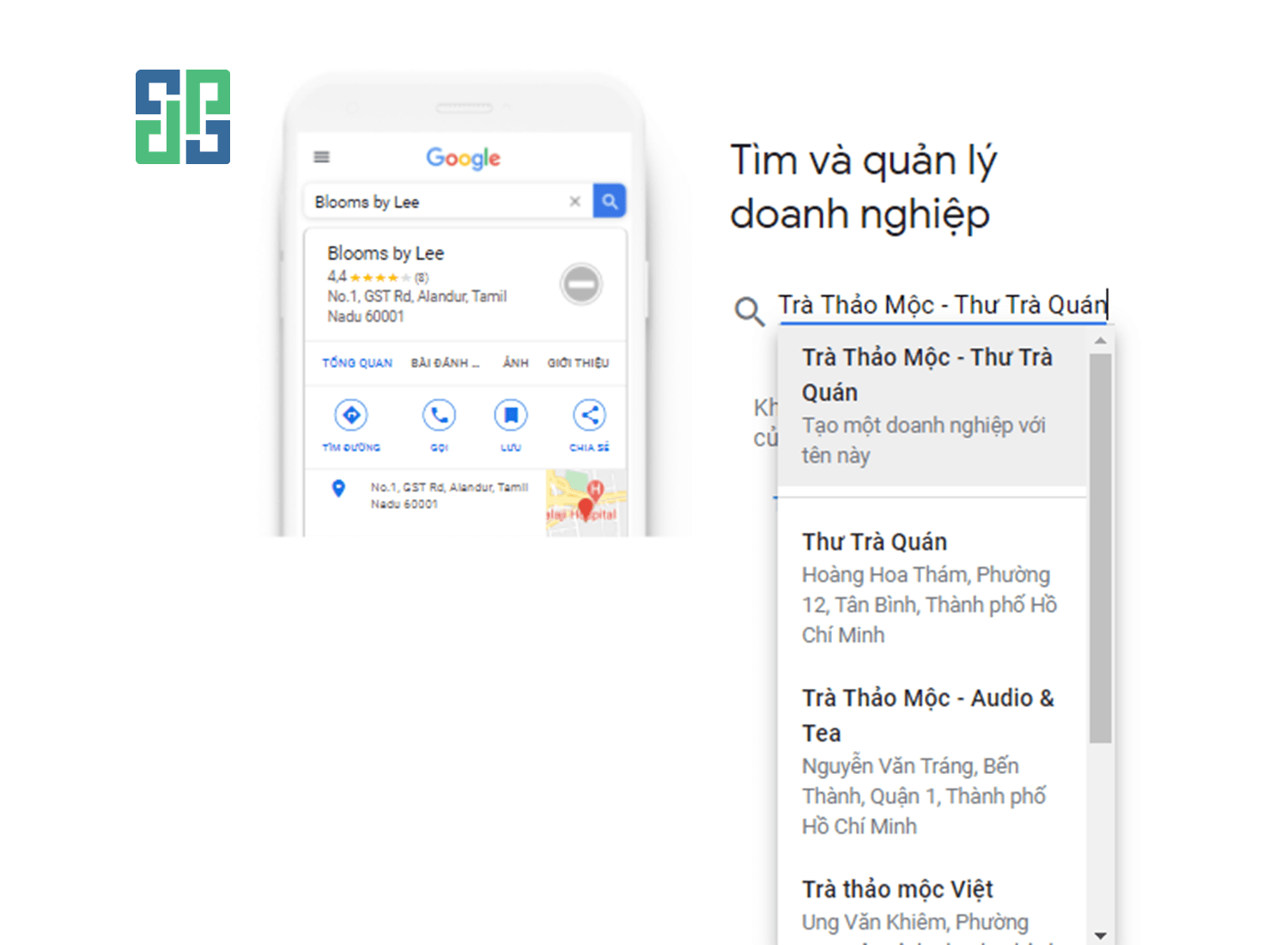 Step 3: Start creating a profile for your business. Select the business category and click "Next"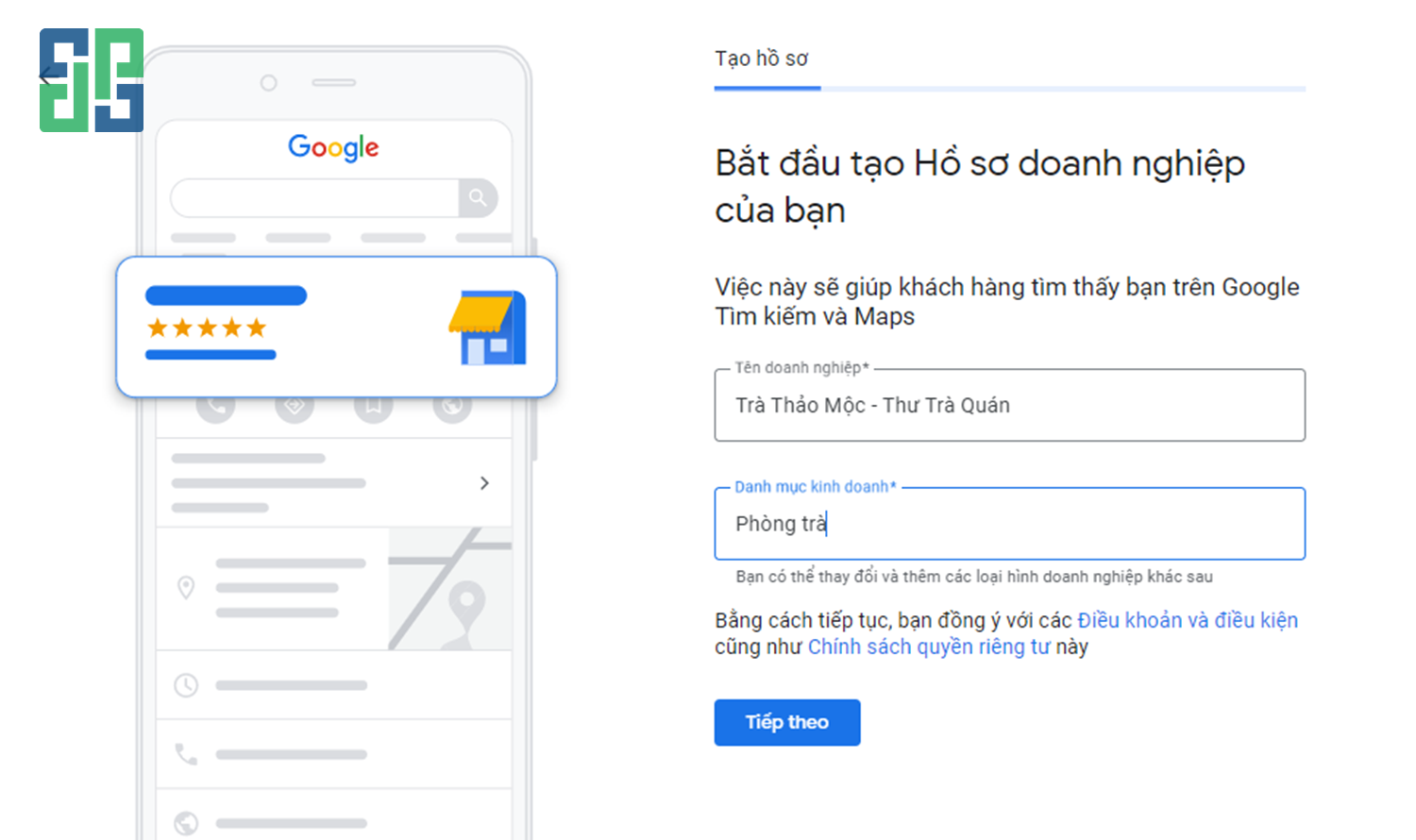 B4: Enter your business information such as country, address, city, province and postal code.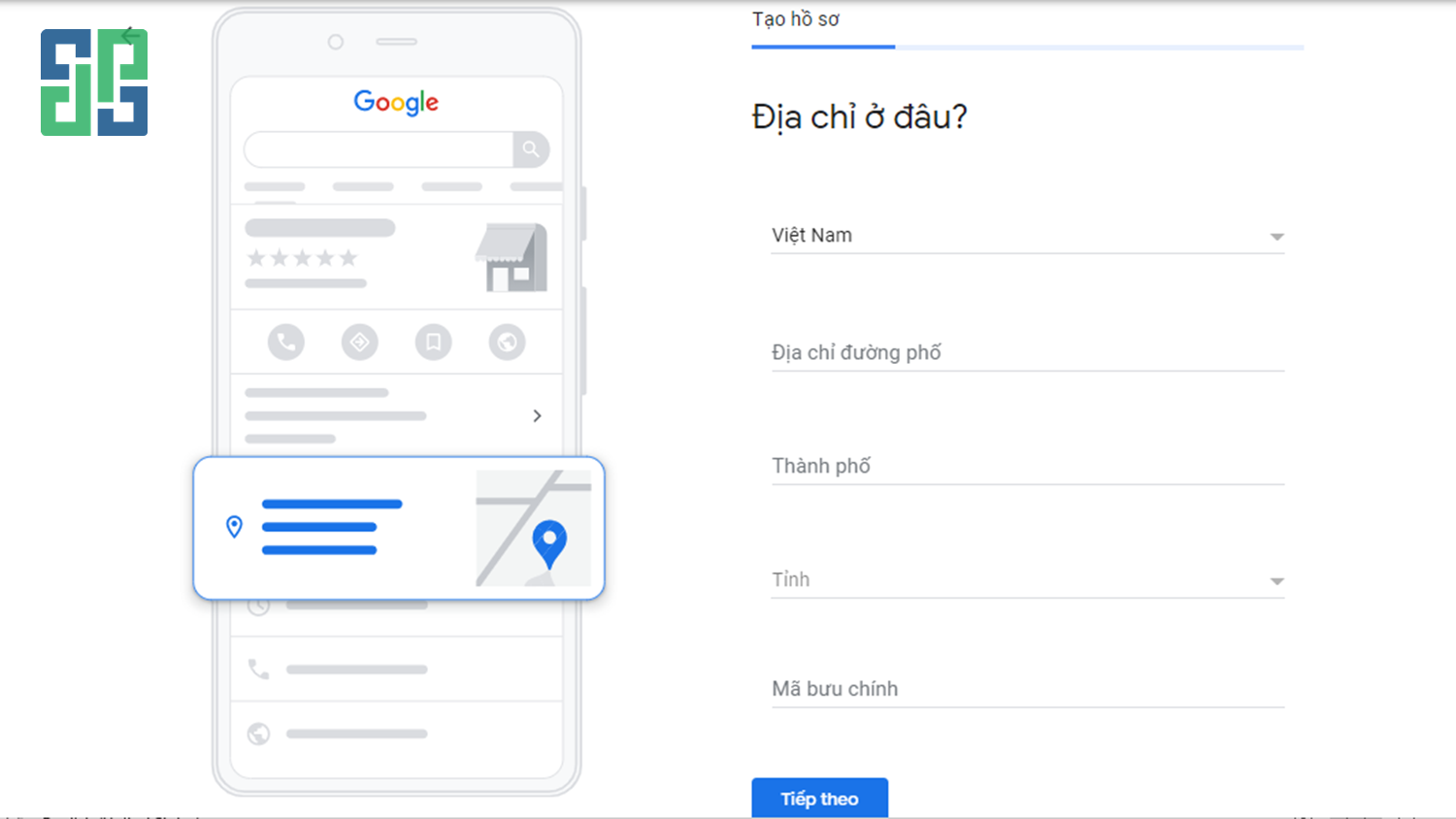 For postal code information, visit the link: https://inxpress360.com/ma-buu-dien-tp-ho-chi-minh/ . Select the respective District and Ward, you will find the postal code. Then enter the postal code in the "Postal code" field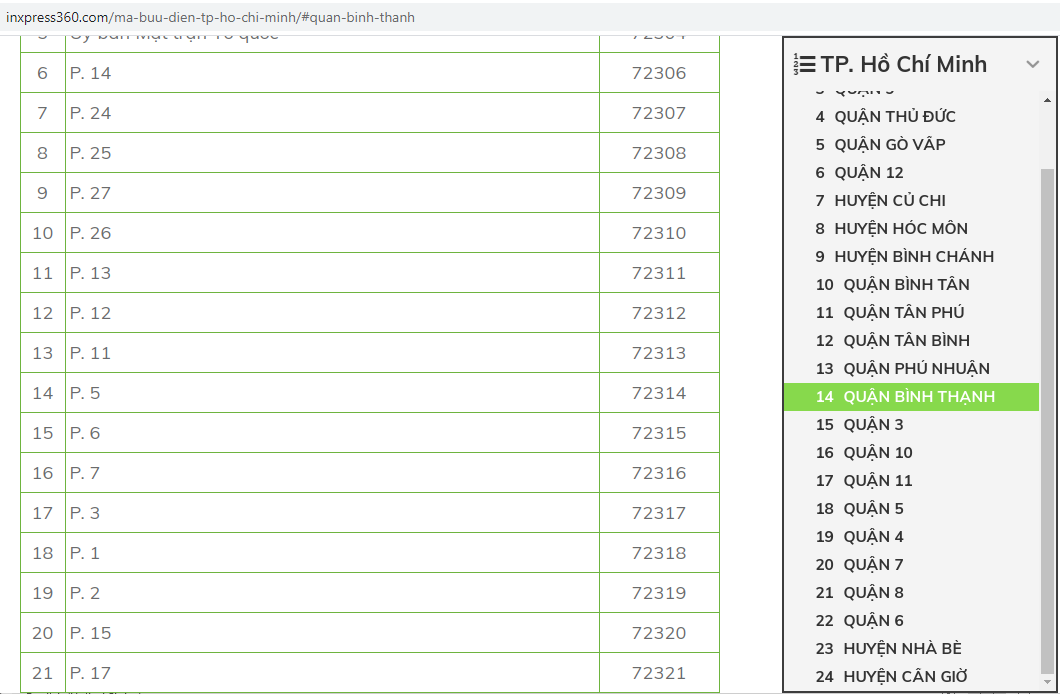 B5: Continue to enter information until the business verification step.
For the time being, you just leave it there, DPS will give specific instructions in the next section quickly. So, stay calm and continue to enter the next information!
For example, information to be provided such as: Working hours, adding private messaging function, meal service options, adding a business description, etc.
So how many ways to verify Google map yourself? And how are the specific instructions for each method of self-identification? Check out the content below!
5 popular ways to self-verify Google Map
Google Maps business verification by mail
This is a common way to verify a business.
The most important thing is that you give Google the exact location of your business and make sure it's physically present.
Delivery usually takes up to 2 weeks depending on the area.
While waiting for the verification code, do not change any business information! In order to avoid difficulties in verification, the following information should not be edited. These are: name, address, business directory, etc.
Specific steps to help you verify Google Maps by mail
Step 1: Sign in to Google My Business
Step 2: Select "Verify now" the business you want to verify
Step 3: Add "Contact Name" information and make sure the address is correct. If the address is not correct, please correct it before clicking "Send mail".
Step 4: Select "Send mail"
Step 5: A window informs that the time you receive the postcard is about 14 days.
After 14 days, you will receive 1 postcard with a 5-digit verification code.
Step-by-step instructions to complete the Google Maps business verification process
Bước 1: Đăng nhập vào Google My Bussiness Google my business
Step 2: Select "Verify now" the business you want to verify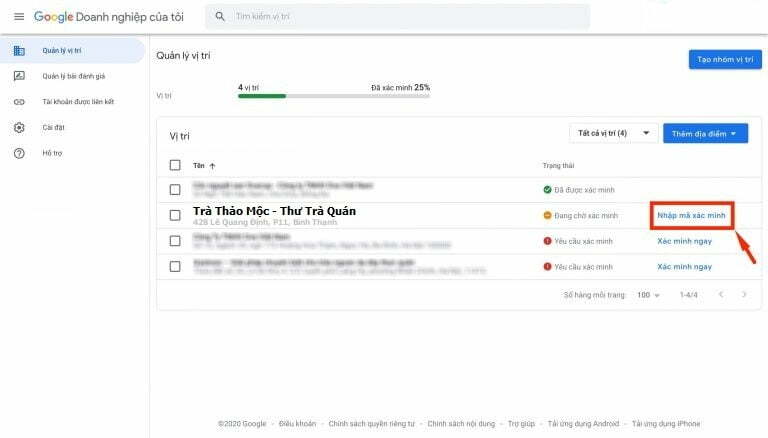 Step 3: Enter the 5-digit verification code (found in the postcard that Google sent to you) in the "Enter code" field. Then tap "Verify" to complete the Google Maps verification for your business.
Verify Google Maps by phone
Steps to verify Google Maps by phone
Some businesses will be eligible for phone business verification. Then, Google will automatically display a "Verify by phone" option when you choose to request address verification.
However, not all businesses are able to do phone verification.
If you see this option, please follow the instructions below to verify!
Step 1,2: Similar to how to verify Google Map by mail
Step 3: Receive a call or text from Google to your phone

Have your phone ready to make sure you receive calls or answer your business inquiries directly to have a verification code sent/read by Google.
Receive text messages to your phone

Step 4: After receiving the 5-digit verification code, enter it in the "Enter code" field. Then select "Verify" to complete the process.
Note when verifying Google Maps by phone
Google will never ask you for the following:
Charges for services related to Google Maps business verification
Ask for a verification code, password or personal information
Offer to improve your Google Business information.
During a verification call from Google, the only real thing you need to do is listen and clearly write down your verification code for later verification.
Google Map business verification via email
This is also a verification method that only applies to eligible businesses.
If your business is eligible, you'll see a "Verify by email" option when you choose to request verification.
Note before verifying, make sure that the email displayed in the verification page is correct. And you can access that email.
The steps to verify a Google Map business via email are as follows:
Step 1,2: Similar to how to verify Google Map by mail
Bước 3: Chọn Email bạn sẽ nhận mã xác minh từ tùy chọn.
Step 4: Check email sent from google. You'll see a 5-digit verification code in the email.
Step 5: Click the Verify button in the verification message. Or enter the code from the email in the Google My Business dashboard.)
Instant Google Maps Business Verification
If your Website has been verified in Google Search Console, you are eligible for immediate verification.
However, what does your business need to do to be trusted by Google?
For instant business verification, sign in to Google My Business with the same account you used for Google Search Console.
If you have a new business or a business that doesn't have an online presence yet, you certainly can't verify the business "instantly".
"Mailing" is the best way for Google to check and send you a business verification code.
In fact, phone, email or instant verification methods usually only apply to large businesses or Google partners (Google Partner) such as DPS.
Bulk Google Maps verification (applies to businesses with 10 or more addresses)
If you own a chain of pizzerias or a cafe chain with 10 or more locations, you'll be eligible for bulk verification.
The steps are as follows:
Step 1: Sign in to Google My Business
Step 2: Click "Get Confirmed Online" next to one of your locations.
Step 3: Then select Chain Chain.
Step 4: Fill in all the required information and submit the verification form.
*Note: The time for Google to review and check business information fluctuates around 1 week.
2 ways to check if Google Maps is verified or not
How to check if the Google Maps associated with your Google account is verified or not?
Here are 2 ways you can apply to check. Check out the illustrations below!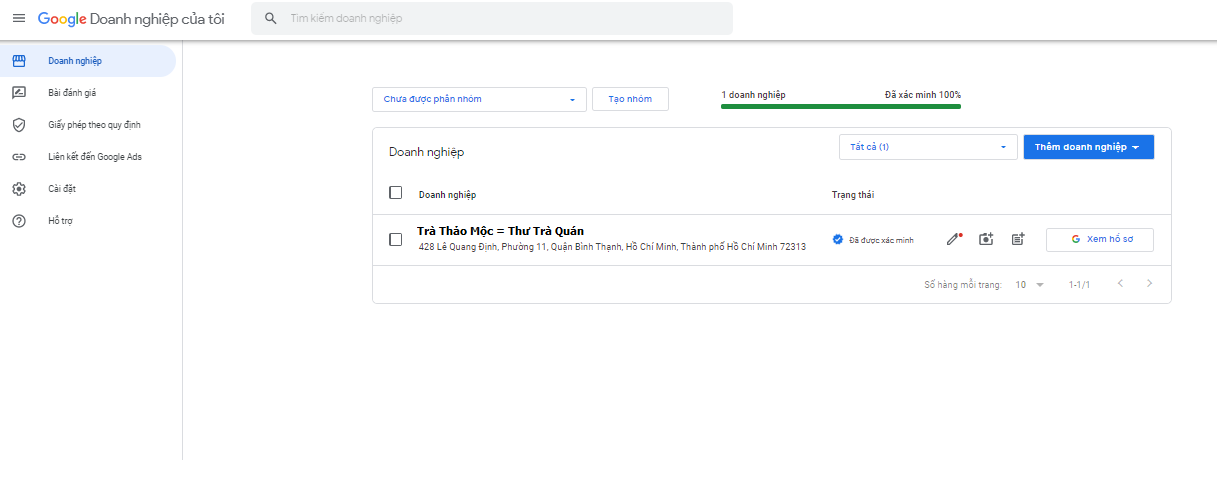 Method 1: Sign in with your Google account, select the business you want to check, and you will see the business's verification status.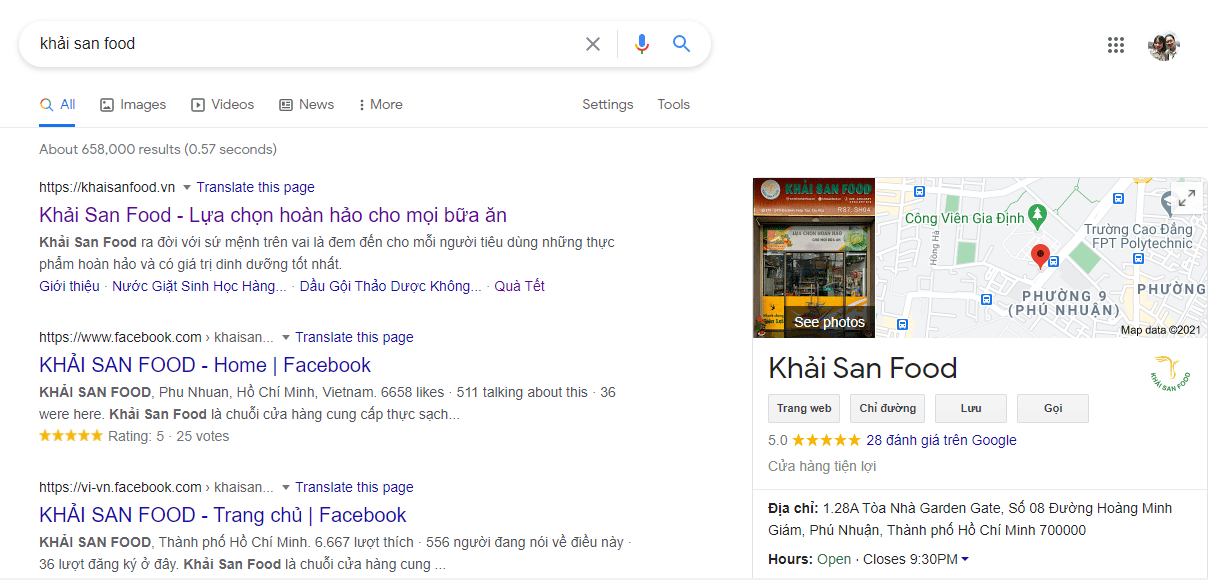 If the business is already on the map, check to see if the place on the map is owned by you?
If not, you'll need to suggest an edit or go to Own this business to re-verify ownership or suggest editing Google Maps if it's duplicated.
When do you need to look to the Google Maps verification service?
You should immediately find a business that provides Google Maps business verification services when:
You're trying to do it but you're having a lot of trouble and you're still not successful
The time to wait for the verification code is too long, even google can't verify it.
Need to verify multiple locations at the same time (chain businesses)
Need to quickly verify the business Google Map to increase traffic to the website, as well as improve Brand SEO.
Map has been robbed by an opponent without you having time to verify it or blocked by Google for violating some terms.
DPS Media is proud to be a perfect choice for you.
So how is the google Map business verification service at DPS? Let's find out more about the professional service process!
Professional reputable Google Map DPS business verification service
DPS Media is committed Google Maps business verification service Fast and effective, especially cheap, best today.
With a team of experienced, dedicated staff, DPS commits and ensures that Verifying Google Maps is fast, efficient and safe.
Verification time is minimized by not having to wait for postcards from Google
There is a warranty and always ready to support any request from customers.
Always put the word HEART first.
24/7 enthusiastic consulting, helping customers optimize the information displayed on Google Maps and SEO Map is highly effective.
Commitment to the price of Google Map verification service is always the best.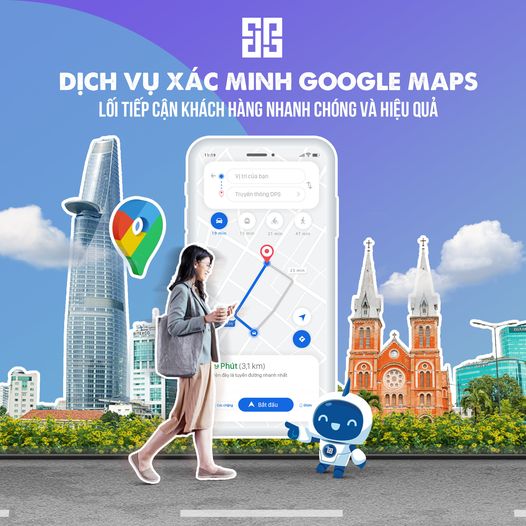 Google maps business verification service process at DPS Media
DPS provides a clear service process to best serve and support Customers. The process includes the following steps:
Effective marketing, with all your heart
What is the price of Google Maps business verification service at DPS?
Only with prices ranging from 500,000 - 1,500,000 VND depending on your needs and the number of positions you want to verify. But you can be completely assured of the quality of service at DPS because DPS Media's mission is to bring customers the most satisfaction when using our services.
If you're looking to verify your Google Maps business, contact DPS Media now to experience our DEFINITION!