DPS – Known by many as DPS Media Services Co., Ltd. is a leader in providing effective digital marketing, online communication, WordPress website design, and SEO services. So you think being an employee of the company is just doing things like SEO, Seeding, design, etc.? Please refer to the following article to learn more about DPS!
Overview of the journey to bring joy to the grandparents
Besides supporting a dynamic, playful and creative working environment. DPS also teaches employees about gratitude. Specifically through charity trips.
Stage 1
On October 23, 2022, the whole team was very grateful to the superiors who planned for the staff to go to Vung Tau. We gathered together at 5am and arrived around 7am. Here, the first destination is to visit orphans. You know, the DPS team is all friendly and playing happily with the kids. At the first station, we together deliver the necessities to the children. Let's blow up colorful balloons to decorate the baby's place.
The children are lovely and very polite. Then DPS and the kids played games and danced together. The chaotic life makes you rush into the wheel and forces you to grow up. But here we have fun, play together and eat candy so comfortably. Please take a look at the photos at the first stop!
Stage 2
Next, thanks to grace, the whole DPS team knew a place to take care of lonely elderly people. The campus here has a lot of animals! These are pheasants, pigeons, iguanas...
Looking at the elderly, we suddenly felt the bridge of the nose was spicy. When the elders saw us coming, they happily welcomed us and shared with us about their daily stories. Seeing the elderly have to lie in one place can't move too much suddenly felt a little heartbroken, how much I love them! 
It's just that they say that, but they work very hard! When we gradually went deeper, we saw the old men together picking out the grit inside the dried shrimp. Did you know that a kilogram of dried shrimp is 20,000 VND. You probably think this is not a lot of money, but they still work very hard and choose very carefully. Through this, we suddenly feel that "work is glory" is not wrong, friends! There is also an old man who sings very well and is known to be the leader of the fine arts! Before leaving, the team did not forget to give the elderly the necessary necessities. Hope it can be of help to you guys.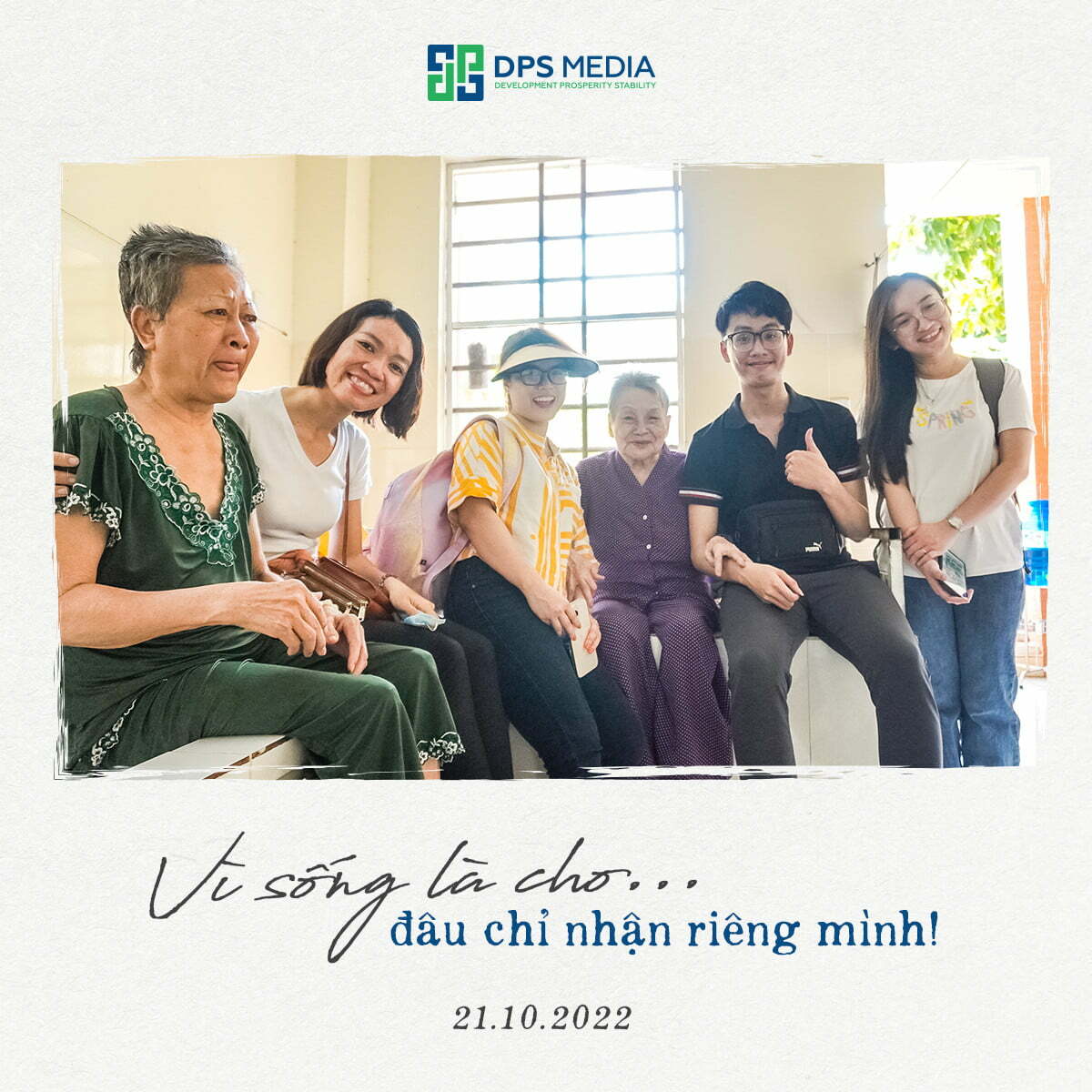 Feelings of DPS personnel
After chatting with each other, we moved to the restaurant. Eat together, share the feeling of the trip together. After this trip, we all have indescribable emotions, some of the staff shared this:
"Da Nhi Ù has arrived home, thank you to the kind driver @Quoc Cuong for the ride. Above all, I would like to thank Ms. @Kha Van for creating conditions for the team to have a meaningful and beneficial volunteering. Thank you to two sisters Song Hang @Hang Le @Minh Hang for making the program so fun and exciting. Thank you to the logistics department that is represented by @Bao DPS carefully taking care of each gift, breakfast, and equipping with "tools" for work. Special thanks to the design team @Truc @Tan Vo @Thien @Ngânnht anh @Tuan Dat for being fully present, overwhelming the population today. And thank you to the DPS brothers and sisters for their contributions, donations, and love for this trip! Hope you will be able to create more memorable and loving trips with the DPS family! Love the whole family! See you tomorrow with the roof of the wedding!" – Bao Nhi (Content team personnel share).

I thank Ms. @Kha Van for creating conditions for me to participate in a meaningful charity event ❤️ Thank you Team for accompanying me, it was a fun trip ❤️ – Tan Vo (Team Design shared about the trip)

Thank you @Kha Van for giving me an opportunity 😍 this is my first time doing charity work 😇 it's great to meet everyone @All – Minh Nhut (Team Website shared).
Emotions still linger
Truly how meaningful that trip was. Thank you management for always creating conditions for DPS members like that! Through the trip, everyone's feelings will be stronger. You will also feel more grateful because their lives are more fortunate and happier than children and grandparents. 
And of course, the company DPS . Communication will not stop at this trip. In the coming time, the company will constantly make efforts to contribute more to the society. Useful for more situations. Meaningful journeys will be continued more and more. 
I hope that DPS Communication company will always be strong and maintain those loves so that we can send good thoughts to more people.