With the current explosion of digital technology, advertising and communication have become the "dominant" marketing method of the business market. However, how to implement the most effective and economical communication campaigns is a question that causes many people a headache. Grasping the needs of businesses, many total media advertising companies have been born to bring the most comprehensive and cost-effective service packages to customers. To learn more about this type of company, please refer to the article below.
"Stopping advertising to save money is like stopping the clock to save time. - Henry Ford" 
Advertising communication – Launching platform to raise business value
Advertising and communication is one of the smart and powerful marketing tools for a business's business. If you know how to make good use of the advantages that advertising media brings, your business will surely survive and anticipate trends and customer beliefs.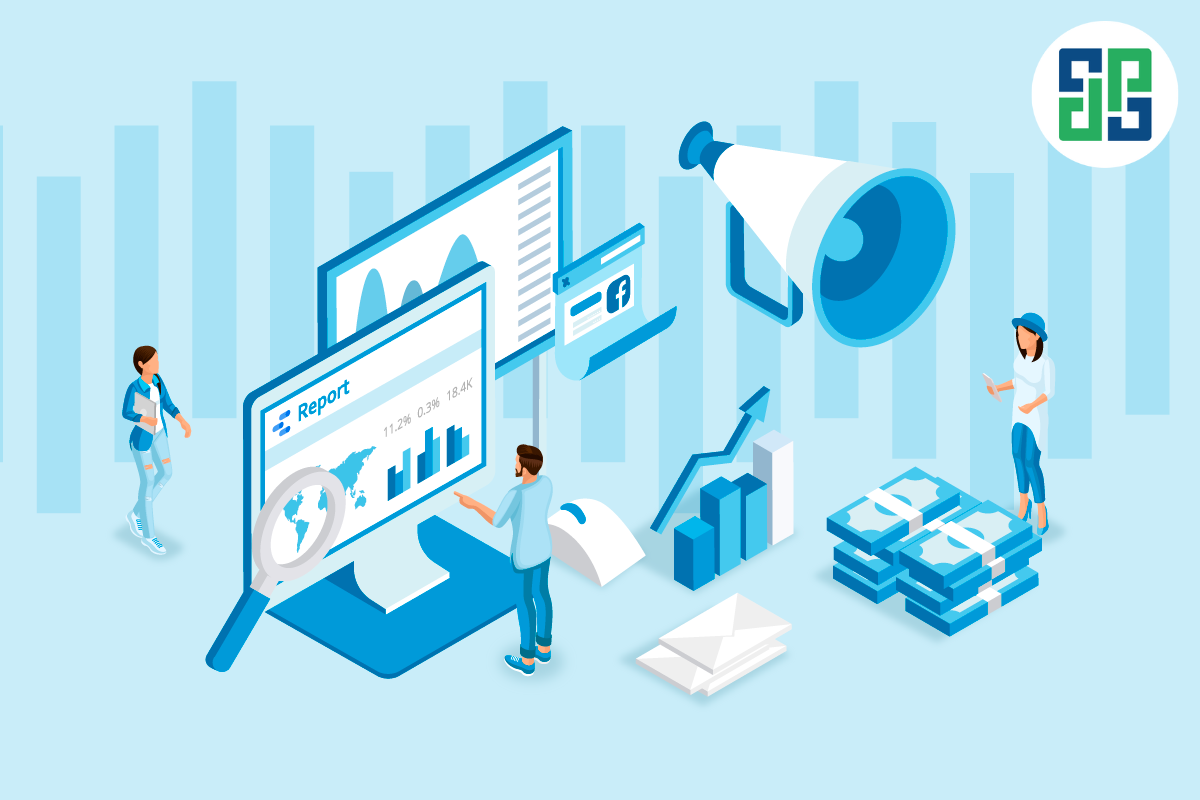 Let's find out the advantages that total advertising communication brings to the company:
Effective competition:

Using advertising tools helps businesses easily reach customers. From there, build a solid market, promote

brand image

and affirm its position with other competitors.

Communication and promotion of products and services:

In order for customers to know and use the products and services of the business, it is definitely necessary to use advertising tools. It will help the product reach the right people by increasing

awareness

about products and product benefits, stimulating consumer demand of customers.
Drive superior revenue:

Thanks to advertising, businesses will adjust the market to reach the right potential customers. Through that, the sales and revenue of the business will be significantly improved and grown.
Build a beautiful and impressive brand image:

Advertising methods will help businesses build a beautiful image in the minds of customers, helping customers remember your brand.
What services does DPS total media advertising company provide?
Service of running facebook ads at DPS overall media advertising company 
According to statistics of NapoleonCat, in Vietnam there are nearly 76 million Facebook users, accounting for more than 70% of the national population and topping the list of popular social networks in Vietnam. So, it is not an exaggeration to say that Facebook is a "gold mine" for businesses to communicate, build brands and sell effectively.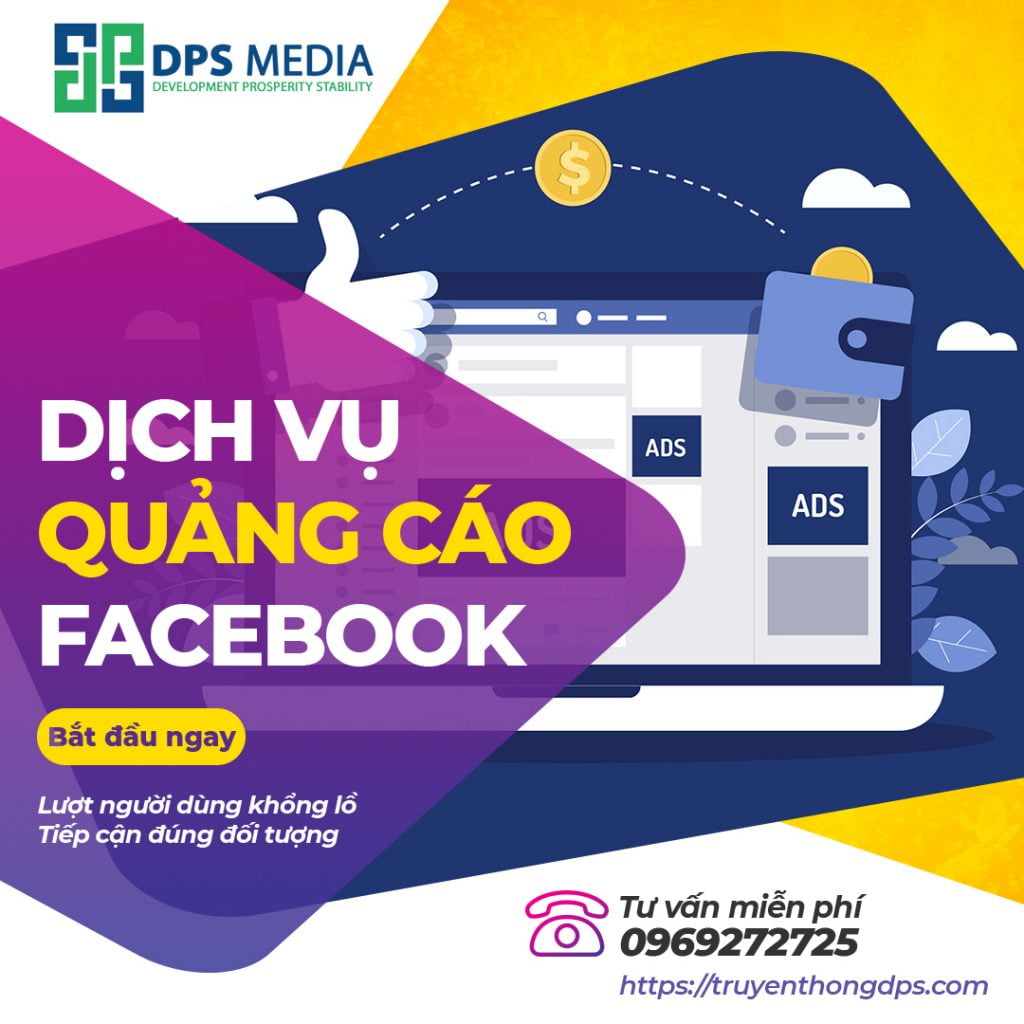 With experience having done thousands of Facebook ads Effectively in all fields and industries, DPS always knows how to build the most detailed and detailed campaigns such as:
What is the goal of this ad campaign? Increase brand awareness or increase revenue?

Who is the target audience in the campaign?

What is the content and image of the advertisement?

Optimizing ads

Monitor, measure and evaluate results 
All these stages will help your product be advertised in the best, most optimal and most effective way.
Google adwords advertising service
DPS offers many different packages of Google Ads advertising services to be flexible and suitable for all types of customers. Based on your needs, desires and financial capabilities, we will bring you the best and most suitable package of Google Ads advertising services.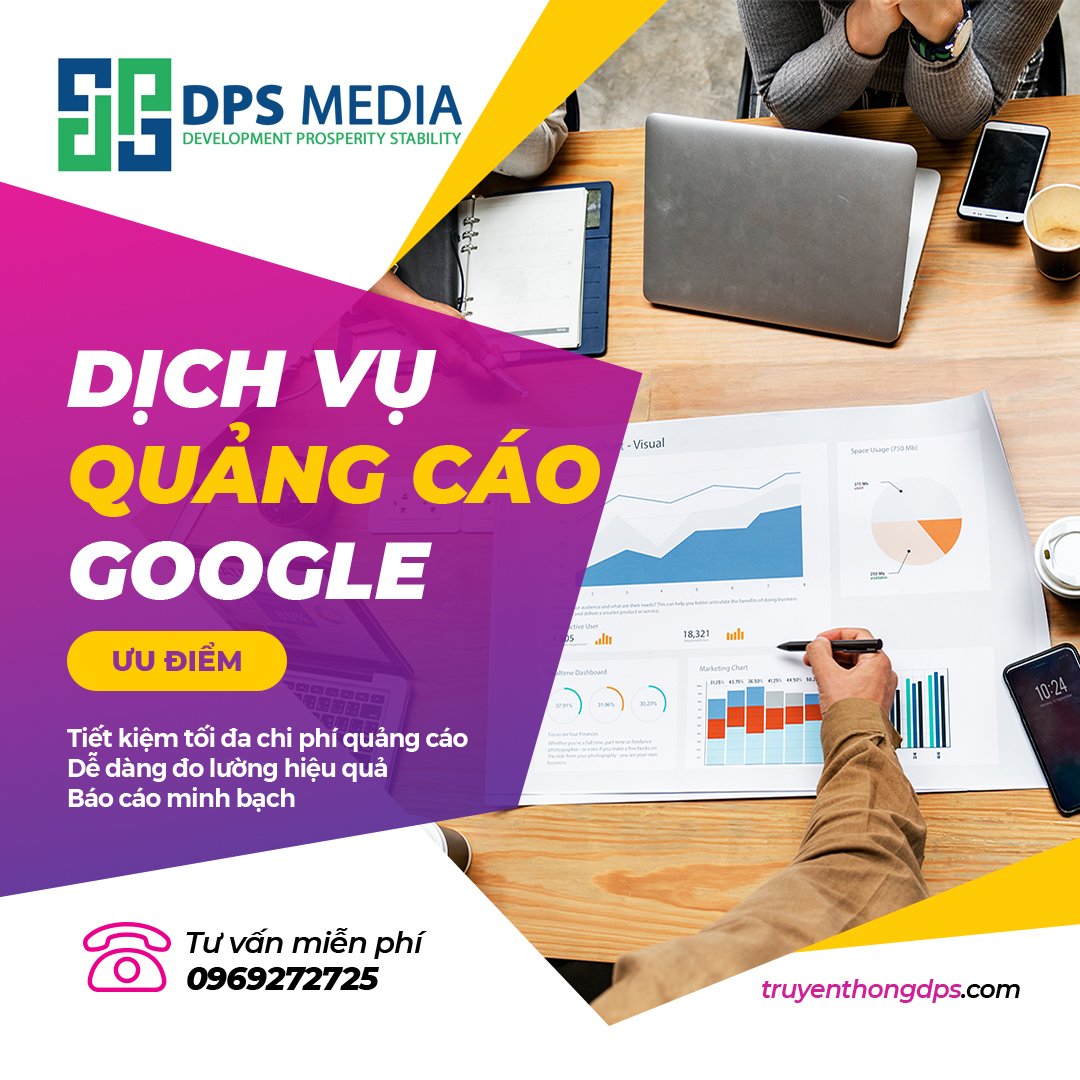 Procedure google adwords advertising at the overall media company DPS Media:
Advertising consulting

Set up ads

Advertising monitoring

Report results transparently
Why should you use the service at DPS media advertising company?
Cost savings for businesses 
To carry out an advertising campaign, the business has spent a lot of money and caused economic waste? To be fair, this statement is not wrong, but we must remember that advertising is not a meaningless job, it brings a lot of benefits to businesses.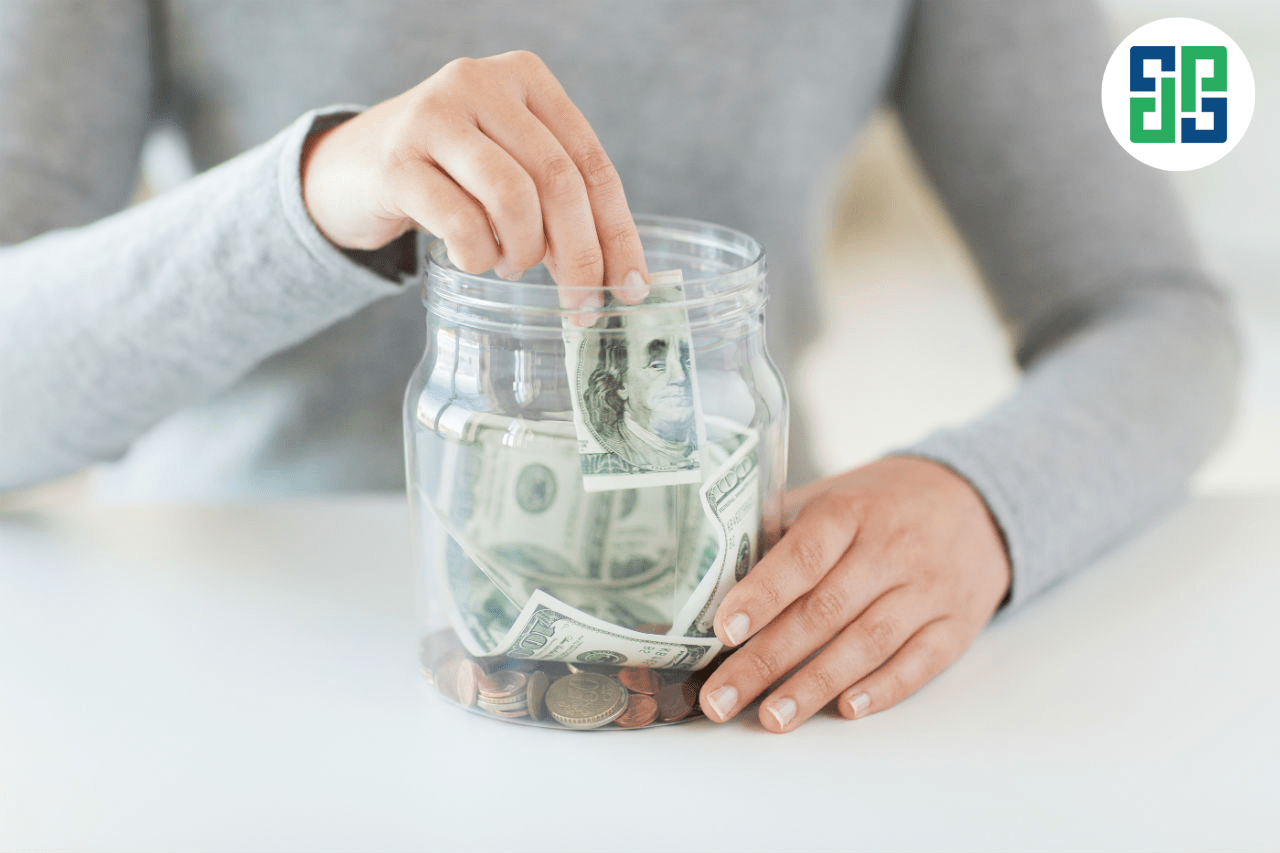 And the most optimal solution to this problem is to hire an external advertising media service. With the MIND in the profession, DPS Media always operates under the guideline of putting the interests of customers first. The company specializes in providing overall communication and advertising service packages at the BEST prices in the market. Just spend an amount equal to ½ or ⅓ of the total amount of money to use other communication services, DPS has helped you build a detailed advertising campaign, in line with business goals, bringing "surprise" effects. " for Business.
The overall advertising company brings high communication efficiency 
With a team of young, enthusiastic and creative employees, DPS has been making constant efforts to create the best quality products and services for customers. We will help your products be more widely known, build a better brand image. From there, improving the reputation in the eyes of customers, helping businesses sell effectively and earn "terrible" profits.
DPS has extensive experience in the field of advertising communication 
Have you ever run ads yourself or hired outside service companies to implement advertising campaigns for your business but the results were not as expected? And you don't know why your ads are not working and what is the cause to find a way to fix it?
The main answer is that you and the hired unit do not really have experience in the business field or do not seriously study the services and products of the business before implementing, so the results are not as expected.
DPS overall media advertising company is proud to be the unit trusted by many businesses, chosen to accompany in many different fields, such as education, cuisine, real estate, home appliances, feng shui, Banking, health... With the available expertise and enthusiastic team, DPS has created the most thorough and effective projects, helping its customers to acquire "assets" that many competitors desire. wish.
summary 
Advertising is an effective tool for your marketing campaigns. What are you waiting for without contacting DPS – prestigious Ho Chi Minh City facebook, google adwords advertising company for detailed advice!
We are very fortunate to be with you in the near future!